ENOXY - AIR TIGHT JUICE FLOW
A simple and effective process for a juice run flow in airtight conditions - the ideal solution to preserve the aromatic potential of the grapes.
The retractable juice flow pipe ensures continuity between the press tank and the reception hopper or the accelerating pump: the juice is no longer in contact with the ambient air.
A valve located on the press tank drives out the air before pressing: the air no longer passes through the mass of grapes during pumping. A slow and continuous neutral gas injection on the flow of the juices ensures effective inerting during the transfer of musts.
ADVANTAGES
The juices are inerted
The colour is protected
It is simple and effective
The press remains versatile
It does not depreciate if you want to sell it
Compact system
This system can be supplemented by the ENOXY + to reduce the input of antioxidants (SO2 for example) and protect the juices that come from breaking up the press cake.
ENOXY +, FOR OPTIMAL PROTECTION OF THE MUST
With this system, it is possible to automatically inject an antioxidant solution while the press cake is being broken up. As a consequence, it reduces the amounts overall by fractioning throughout the juice extraction process, making it more effective.

This process is based on the principle of fractioning of the antioxidant input throughout the juice extraction process. The split contribution means less quantity added more frequently. Introducing very small amounts into the press blocks the action of the PPO (polyphenol oxidase) enzyme.
ADVANTAGES
Greater aromatic intensity of the juices
Possible use with SO2:
- Reduced risk: less error
- Specific and gradual dosing
- Greater effectiveness of the SO2
- Reduction in the amounts of SO2
System incorporated in the press
The glutathione is preserved
Increased production of thiols
Press cake better preserved
The colour is protected
Simple and effective
The press remains multi-purpose
It does not depreciate if you want to sell it
Compact System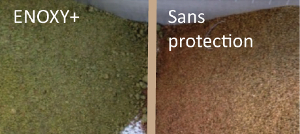 Result with Enoxy: brighter color.