NEKTAR DOLCE VANILLA
SPECIFIC BLEND OF CHIPS FOR A COMPLEX, VANILLA RESULT
Specific recipe of toasted chips developed for vinification and aging by Pronektar's R & D team
Oak, vanilla, lactone, creamy notes with respect of the fruit profile.
Sweetness and volume on the palate.
RECOMMENDATIONS FOR USE
Optimal period for starting contact
White wines: From start of primary fermentation to obtain a well-integrated oak profile and to respect the profile of the fruit.
Red wines: Before malolactic fermentation for a more complex aromatic profile and maximum integration of the tannic structure, or at beginning of aging.
Recommended aging Temperature
15°C (60°F) minimum with strict monitoring of microbiological conditions.
Set Up
It is recommended that the bags be attached halfway up the tank, using food-grade binding straps.
Recommended time of contact
Minimum 1 month, to be monitored by tasting.
TASTING RESULTS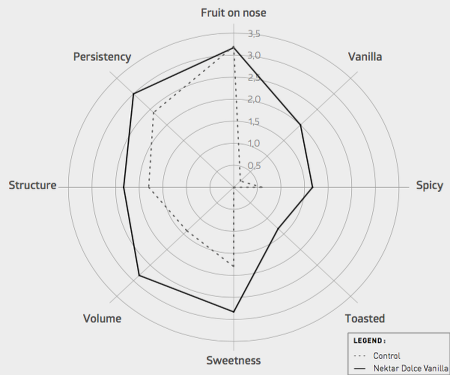 Results of trials carried out on Tempranillo 2013 (Spain), using Dolce Vanilla in aging phase with a dose rate of 2,2 g/L, leaving them in contact for 6 weeks.