NEKTAR FRESH
CREATED TO PREPARE THE WINE FOR AGING PHASE
100% untoasted french oak granulate for vinification
Barrel quality oak, natural aging in the wood yard
Oakscan® selection of wood with high content of ellagitanins
Dehydrated before packing
Enhances the fruit character and softens the vegetal characteristics without adding any oak aroma.
RECOMMENDATIONS FOR USE
Optimal period for starting contact
On red Wines:
- 100 to 300 g / hL of wine (depending on the sanitary conditions of the grapes).
- Spread the NEKTAR FRESH granulates directly in the reception vat or when the wine is poured into the vats, to benefit as quickly as possible from the protection against oxidation and stabilization of color.
On white Wines:
- 50 to 100 g / hL of wine. Just after the clarification of the must, to obtain maximum protection ot the freshness.
Set up
Use in mesh bags for white and rosé wines, and loose in the tank for red wines.

Recommended time of contact
Minimum 2 weeks, during the vinification period.
TASTING RESULTS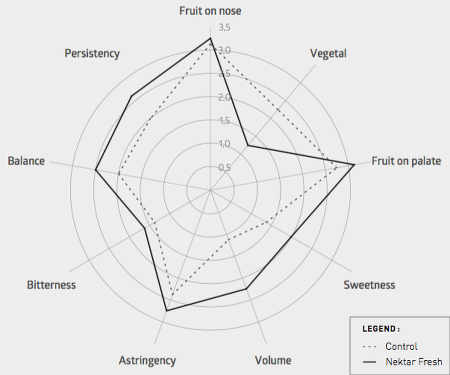 Results of trials carried out on Merlot 2013 (Bordeaux), using chips in the maceration and fermentation phases with a dose rate of 2g/L, leaving them in contact for 15 days.