STAVES: NEKTAR BLOCKS
A PRACTICAL ALTERNATIVE TO STAVES, FAST ACTING AND QUALITATIVE
Blocks in mesh bags for quick, practical and qualitative aging
Elegant and complex contribution of aromas, respect of the fruit
Contribution of structure on the palate, volume, sweetness and persistency
Toasting level: Extended Light, Medium, Medium plus
Size: 47 x 47 x 17 mm (1,85" x 1,85" x 0,67")
RECOMMENDATIONS FOR USE
Optimal period for starting contact
White wines: From start of primary fermentation to obtain a well-integrated oak profile and respect the profile of the fruit.
Red Wines: At start of primary fermentation to obtain maximum respect of the fruit profile or before malolactic fermentation for a more complex aromatic profile. In both cases maximum integration of the tannic structure will be obtained.
Recommended aging Temperature
15°C (60°F) minimum with strict monitoring of microbiological conditions.
Set Up
It is recommended that the bags be attached halfway up the tank, using food-grade binding straps.
Recommended Time of contact
Minimum 3 months, to be monitored by tasting
TASTING RESULTS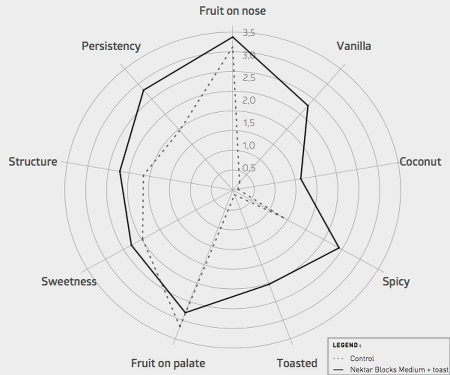 Results of trials carried out on a blend of Syrah and Grenache (Vallée du Rhône, France, 2014), using Nektar Blocks Medium Plus in aging phase with a dose rate of 3,5 g/hL, leaving them in contact for 3,5 months.